"College Athletics Construction Roundup" is a monthly series on the construction of intercollegiate athletics facilities. Each month we'll provide a list of announced, in progress and recently completed athletic construction projects from around the country. You can view previous editions of the "College Athletics Construction Roundup" here.
Master Plan
Northwestern State has several projects in the planning stages. The Baseball complex will receive a new concession stand and restrooms. The Tennis complex is slated for a players' facility and coaches' offices. The Track and Field complex will receive new men's and women's locker rooms, restrooms, a press box and 1,000 seat grandstand.

Syracuse announced a couple of upcoming projects. The Carrier Dome will receive a new roof, using steel and ETFE (a plastic used in Minnesota's new U.S Bank Stadium and Beijing's Water Cube). The school will also overhaul Archbold Gymnasium into a new student health and wellness complex. The budget for the two projects is $255 million, which includes ADA-related upgrades in both venues.
Texas' master plan details the preferred location of a new arena, replacing the Frank Erwin Center. Details are yet to be finalized by the system's Board of Regents, but capacity could be 12,000 – 17,000 depending on whether the new facility is basketball-only or multi-purpose (as the Erwin Center is now). The Master Plan also calls for a new soccer stadium and practice field, improvements at UFCU Disch-Falk Field, short game facility upgrades for golf and upgrades at McCombs Field.
—————
Football
Coastal Carolina's proposal for renovations to Brooks Stadium was again denied by the state's Commission on Higher Education. In the revised proposal the school had lowered the budget and lessened the amount of money acquired by bonds. The football program's planned move to the Sun Belt Conference will require stadium expansion to meet FBS attendance mandates.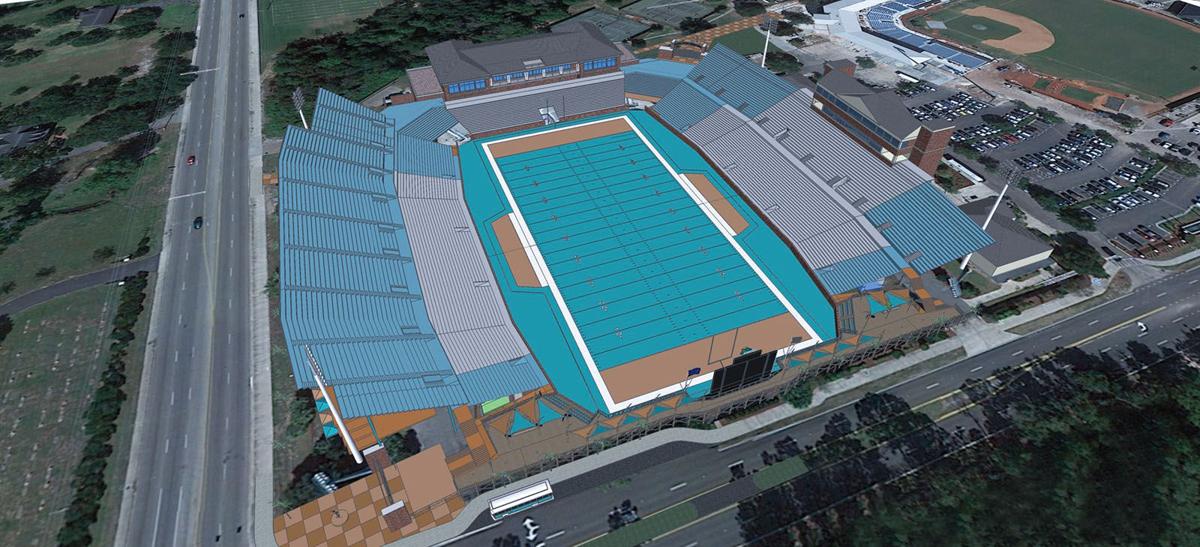 Montana will replace the current Jumbotron in Washington-Grizzly Stadium with a new high-definition LED screen. The new display is expected to be 55 feet wide by 32 feet tall. Continue reading College Athletics Construction Roundup: June 2016 →