College Athletics Construction Roundup: July 2015

Last Updated on March 28, 2023
The "College Athletics Construction Roundup" is a monthly series on the construction of intercollegiate athletics facilities. Each month we'll provide a list of announced, in progress and recently completed athletic construction projects from around the country. You can view previous editions of the "College Athletics Construction Roundup" here.
Master Plan
Louisville's Board of Trustees approved a capital plan that includes a $55 million expansion of Papa John's Cardinal Stadium. The capital plan is a wish list and does not necessarily indicate construction is imminent. The school is continuing to explore expansion feasibility for the stadium.
Several athletic projects are included in Bryant University's $75 million capital campaign. The projects include a 78,000-square-foot indoor practice facility, 10,000-square-foot strength and conditioning center and a resurfaced outdoor turf and track.
West Virginia has several athletic projects in the pipeline, covering several sports. Projects include a new surface for the outdoor practice field, new turf for Mountaineer Field, concourse renovations, locker room renovation for men's basketball and facilities for the new golf program.
—————
Football
Virginia Tech is ready to open its new Indoor Practice Facility. The building features 92,000 square feet of turf and a 100-foot ceiling. Having built the facility wider than many other IPFs, the building can become a year-round facility for other sports such as soccer and lacrosse.
With football reinstated, UAB is fund raising for the necessary facilities. An additional $13 million will be required to pay for a new weight room, training room, locker room, office space and practice field turf.
Toledo is looking to improve fan experience by spending $3.5 million on restroom and concession stand renovations to the Glass Bowl. Construction is expected to near completion by the beginning of the 2016 season.
Montana has begun work on a new $14 million Champions Center. The project will triple the size of the football locker room and includes a new 17,500 square-foot weight room which can be used by all student athletes.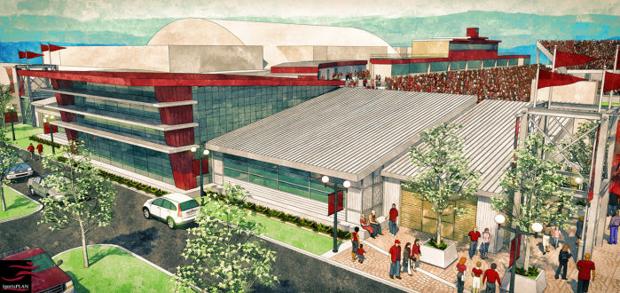 Air Force will spend $30 million over five years to renovate Falcon Stadium. The project includes improved team locker rooms, luxury suites and a new scoreboard and video board.
Texas Tech is spending $3.9 million on a seat replacement project in Jones AT&T Stadium. All chairback seating and most of the bench seating will be replaced during the construction. Work is expected to be completed in July.
Fresno State will install new high definition video and ribbon boards in Bulldog Stadium. The $892,000 project will double the size of the current display and increase active signage in the stadium.
Oklahoma approved $105 million for renovations to Owen Field. The south end zone renovations include the addition of luxury suites, new office space, team meeting rooms and an expanded weight room. The project is expected to be complete in time for the 2016 game against Ohio State.
Miami (OH) will build a new Athletic Performance Center. The facility will be located in Yager Stadium's north end zone. Amenities include a new team locker room, weight room, office spaces, meeting space and a sports medicine and rehabilitation center.
Duke has begun renovations to Wallace Wade stadium, with expected completion in time for the 2016 season. When complete, the stadium will feature additional restrooms, ADA integration with companion seating and a new five-story, 90,000 square-foot tower. See progress of the construction here.

—————
Basketball
Xavier will spend $25 million over seven years to renovate the Cintas Center. The to-do list includes converting the Hoff Dining Hall into an academic center, a new strength and conditioning area and an expanded sports medicine room. Fan experience upgrades will include better Wi-Fi capabilities, some seat replacements and new hospitality areas.
Indiana will build a technology center as part of the ongoing Assembly Hall renovations. With a donation from Dallas Mavericks owner Cuban, the school will be the first to use 3-D multi-camera technology and virtual reality.
Manhattan unveiled its new court design for Draddy Gymnasium. The mostly-green court will be known as the 'Green Monster'.

Georgetown selected a new court design from more than 150 that were submitted through a contest. The new design will be installed for the 2015-2016 basketball season.

Rider will begin construction of a new practice facility this summer. The 8,400 square-foot facility will be located behind Alumni Gymnasium. Construction is expected to be complete in Spring 2016.

—————
Olympic / Other Sports
Kentucky approved financing for a new baseball stadium. The new Cliff Hagan Stadium will replace the current facility, which was last renovated 13 years ago. The new stadium will increase seating by over 1,000 seats.
Vanderbilt will build a new $12 million baseball facility. The facility will include an expanded wright room, reconstructed batting cages, professional players' locker room and lounge and coaches' offices overlooking the field.
—————
Academic & Multi-Use Facilities
Minot State will install a new LED video display inside the MSU Dome. The display will measure 19' high by 33.5' wide and can provide either one large image or a sectioned-display for multiple images. The Dome houses competitions for the basketball, volleyball and wrestling programs.
Marshall opened the new Buck Harless Student-Athlete Academic Center. The 14,100-square-foot space features over 100 computers for student-athlete use, classroom space, a 75-seat auditorium and tutoring rooms.


—————
Other Notes of Interest
One trend through facility renovations is to reduce stadium / arena capacity. Many capacity reductions are the result of an increase in suite and luxury seating, which include wider seats, arm rests and chair backs rather than bleacher seating. Sometimes reduction is the result of fan amenities such as social spaces and party areas, bringing social experiences into facility design.
Have a project you'd like to submit for next month? Email us here.