College Athletics Construction Roundup: March 2016

Last Updated on March 28, 2023
The "College Athletics Construction Roundup" is a monthly series on the construction of intercollegiate athletics facilities. Each month we'll provide a list of announced, in progress and recently completed athletic construction projects from around the country. You can view previous editions of the "College Athletics Construction Roundup" here.

Master Plan
Boston College announced $200 million in athletics facilities upgrades. An athletics field house, including a football indoor practice facility, will be located next to Alumni Stadium. A 240,000 square foot recreation center will replace the Flynn Recreation Complex. Permitting will also be sought for the baseball, softball and intramural fields.
—————
Football
Louisville will expand Papa John's Cardinal Stadium. An additional 10,000 seats will be installed including club seats, premium boxes and field level suites. The project will also include a 70,000 square-foot expansion to the weight room and conditioning center and improvements to coaches' offices, locker rooms and meeting areas.

UAB has approved a new turf field and football operations facility for its reinstated football program. The 46,000 square foot facility will include a weight room, locker rooms and administrative offices. Expected completion is summer of 2017.
Temple approved funds for a design study for the proposed new stadium on campus. The northwest corner of campus is the expected site for a proposed $126 million, 35,000 seat stadium.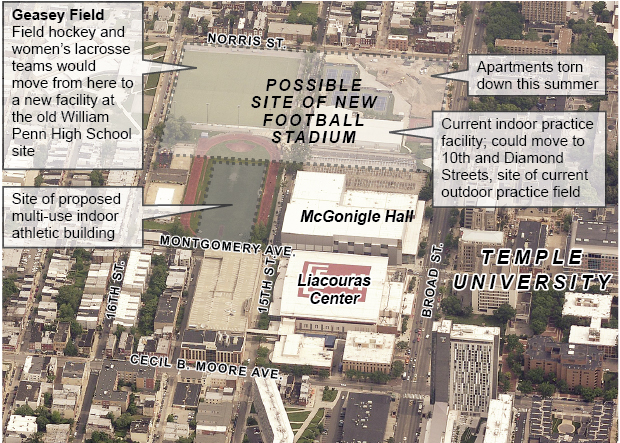 Old Dominion is studying potential places to build a new stadium, with the current site where Foreman Field sits the most likely. Bringing the existing facility up to current codes would reduce current seating capacity while building on the current site could preserve the newer pieces of the recent renovation of the site: premium seating, a parking deck and the stadium turf. The school has indicated the ideal capacity for a new stadium would be less than 30,000.
Utah State remains on track for stadium renovations to be complete before the beginning of the 2016 season. When complete, Maverik Stadium will have new premium seating, a new press box, expanded concessions and restrooms and two new video boards.
Coastal Carolina approved $38 million in higher education bonds to finance the Brooks Stadium expansion project. The project will include 10,000 additional seats, a new entrance plaza, premium suite-level seating and new concourse amenities.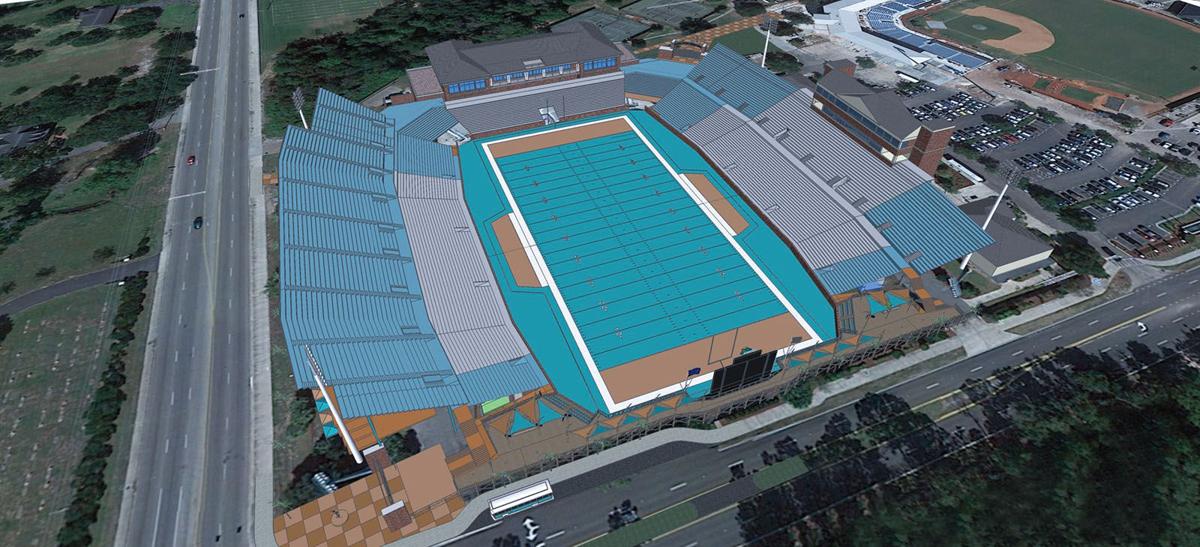 Houston will move forward in the design phase of a new indoor practice facility. The timeline calls for design to be completed this spring with construction beginning in the fall. The project includes am 80,000 square-foot facility with a football-specific strength and conditioning area.
Wake Forest dedicated the new McCreary Field House. The $21 million, 80,000 square foot facility features a 120-yard football field and weight facility.
—————
Basketball
NC State is continuing on its $35 million renovation to Reynolds Coliseum. Seating Capacity will be reduced to create a more intimate environment. The renovation will also include enhanced concession areas and new seating in the courtside areas. The renovated building will be home to the NC State Walk of Fame & History, celebrating the history of NC State Athletics. Construction is expected to be completed in August 2016.
—————
Olympic / Other Sports
Oregon remains on track to open the new Jane Sanders Stadium on March 24. The $17.2 million venue will seat 2,500 when all construction is complete (combined reserved and general admission seating).
Saint Mary's is completing work on the Patricia Wiedner Purcell Athletic Fields. The project includes a soccer, lacrosse and softball field. Additionally, the complex includes lighting, scoreboards and press boxes.
UTSA is working with an architect on the feasibility of constructing a new baseball facility at Roadrunner Field. The school is looking at building a 2,500 seat facility at the current, on-campus location.
TCU revealed the completed renovations to Lupton Stadium. The $7.5 million renovation included a new locker room and player lounge, sports medicine center, equipment room and office space.

Ole Miss has begun a $13 million project to upgrade Swayze Field. The performance center will include a new clubhouse, weight room, training area and indoor hitting and pitching practice areas. Construction is expected to be completed in time for the 2018 season.
SMU broke ground on a new aquatics facility. The 42,000 square foot facility will feature an eight-lane, Olympic-size pool with a diving well including four springboards and a 10-meter platform. The building will also feature office space, locker rooms and classroom and meeting areas.

—————
Academic & Multi-Use Facilities
Arizona broke ground on the new C.A.T.S Academic Center. The $7.25 million facility will include tutor rooms, study areas and computer lab. The center will also space for life skills, sports psychology and personal development services.

Vermont is working with the City of Burlington on the feasibility of constructing a multi-purpose arena in the city. The envisioned facility would host UVM athletic events and programs, concerts, conventions and trade shows.
California Baptist University will spend $73 million on a new Events Center. The two-story, 153,000 square-foot facility will serve host to university athletic events, commencement exercises and the school's chapel program. The project includes home and visiting team locker rooms and an Athletics suite and offices.

—————
Other Notes of Interest
Kansas will build a new housing complex on campus. The 750-bed apartment complex will house roughly 250 student-athletes, leaving room for an additional 500 traditional students. The new complex is expected to be completed in 2017.
AECOM and the Center for Sports Administration at Ohio University recently conducted a follow-up survey of 87 Division I NCAA schools (from both public and private institutions). The survey indicates nearly all respondents plan on investing at least $500,000 in facility improvements over the next five years. Additionally, fan amenities are increasing in importance. From the recruiting perspective, top priorities are investments in locker rooms and academic facilities.