Last Updated on March 28, 2023
The "College Athletics Construction Roundup" is a monthly series on the construction of intercollegiate athletics facilities. Each month we'll provide a list of announced, in progress and recently completed athletic construction projects from around the country. You can view previous editions of the "College Athletics Construction Roundup" here.
Football
Oklahoma regents approved a two-phase renovation to the Gaylord Family-Oklahoma Memorial Stadium. The $160 million Phase I will increase capacity to over 84,000. The new south end zone will feature additional suites, loge boxes and club seating.
Iowa State will install a new LED video board and ribbon displays in Jack Trice Stadium. The video board will be 36' high by 79' wide. Work will be completed this summer.
Virginia Tech's indoor practice facility remains on schedule for a July 1 completion. The $21 million facility will accommodate soccer and lacrosse in addition to football.
Nevada has begun its final push to raise $4 million needed for a new video board and sound system at Mackay Stadium. The school has set a May 1 deadline for the funds to be raised for the work to be completed in time for the 2015 football season.
Florida State has plans for $79.5 million in upgrades to Doak Campbell Stadium. Upgrades include structural repairs, repainting the stadium, updated skybox suites and a new premium seating section with up to 6,000 seats. Construction is expected to be completed by the start of the 2016 season.
The University of New Hampshire finalized plans for a $25 million upgrade to Cowell Stadium. The new complex will add 5,200 seats as well as new bathroom and concession areas.
—————
Basketball
UCLA announced the new basketball training and performance facility will be named the Mo Ostin Basketball Center. The facility will cost between $30 million and $40 million and work will begin this fall.
Duke is planning a $20 million expansion to Cameron Indoor Stadium. The project will not increase the size of the arena, but will include a new scaled lobby and a 6,000 square-foot hospitality area.
—————
Olympic / Other Sports
West Virginia announced they will delay the opening of Monongalia County Ballpark. Severe winter weather delayed the installation of the playing surface and other work needed to make the facility operational. The school is working towards a new opening of April 10.
Georgia Tech spent $4.5 million to upgrade Russ Chandler Stadium. The home team's locker room, coaches' locker room and training and weight rooms have been expanded. Players will also enjoy larger lockers with USB and power outlets.
Liberty opened the new Liberty University Softball Stadium. The $9 million facility was built on the site of the old baseball stadium includes locker rooms for coaches, players and umpires, an athletic training room, press box, indoor batting cages, scoreboard and video board.
—————
Academic & Multi-Use Facilities
Cal reopened the Maxwell Family Field. The field will serve as a practice and competition venue for football, lacrosse, the marching band and club and intramural programs.
Trinity University has planned to spend $14 million to renovate the Bell Athletic Center. Improvements include a two-story fitness center, Olympic strength training room, expanded locker rooms and athletic training facilities and several upgrades to Sams Gymnasium.
Ursuline College received a$1 million donation that will go towards the new athletic center. The $10.5 million facility is scheduled for completion this summer.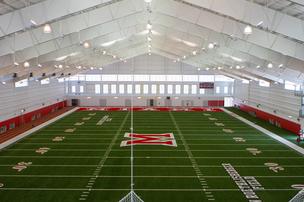 Miami University unveiled its new Indoor Sports Center. The $13 million facility is expected to be used by student-athletes, intramural and club teams and youth athletic programs.
—————
Other Notes of Interest
Marquette says it has no plans to contribute to a financing plan for a new downtown arena in Milwaukee. A new arena would cost between $450 million and $500 million. The school currently has a tenant-lease agreement with the Bradley center and has expressed a desire to continue its strategic partnership with the Milwaukee Bucks.
TCU asked its fan base to submit court design ideas (scroll down to 'Design the Court') for the new basketball court in newly renovated Daniel-Meyer Coliseum. The winner will be invited to see the design applied to the court as well as receive tickets to the men's and women's home openers.
Amid calls from state legislators and coaches to upgrade its basketball facilities, a Rutgers Senate panel has presented a list of recommendations on the athletic department's budget and spending. One recommendation calls for no capital investment (expansion or new construction of athletic facilities) until the athletics deficit is eliminated.
Have a project you'd like to submit for next month? Email us here.
construction roundup
Facilities
facility renovations